Dear readers,

Before I begin to talk about the topic of the day 'Engaging Children at Home – The Free Play Way!' , I would like you all to go back to your childhood and visualize the happiest moments you have had as a child.
The care-free times with innocent laughter, the mud-clad dresses, finger nails full of dirt and our heart full of contentment, is all I remember when I think about my childhood. It never mattered to us or our parents to an extent, how the time went by when we played in our building gardens, streets or even at the building staircases. The only time it bothered them was, when Sharma uncle complained about the noises we made us as kids hampering his resting time in the afternoons, isn't it?
And let us not forget the rainy season – for the paperboats that we made, to watch it sail in the muddy puddles competing with our mates. Summers called in for Rasna or Nimbu Paani from various houses or sequentially asking water to all the aunties in the building complex.
It's such a pleasant feeling to visit back those innocent memories and rekindle the joy in our heart.
As happy as I am to think about my childhood, it gives me a gloomy feeling when I see the play way for our kids. Children these days, don't want to get mud on their sleeves, the hygiene and neatness freak in all of us taking precedence or the parents hovering over them, giving them the instructions as they play out.
So, let me tell you what is FreePlay or Unstructured Play and it's benefits to our little ones. In this blog, you will also find the recommendation of the free play toys available in the market & also some of the ways to engage them at home using household items.
Read along and do share this with your fellow mommy-friends.
A. What is Free Play / Unstructured Play?
I remember when Ayaansh was around 1.5 years old and we brought him a huge toy from an online store, which looked colorful, had music and was promised with improving various developmental aspects of children. He was extremely excited and happy to see it and must have played for 2 minutes but then suddenly he moved away from the toy and started playing with the box the toy came in. I was furious as he played hide-n-seek sitting in the box, stuffing it with his favorite toys. That's when I realised that children need open-ended toys and they find the simple things engaging rather than an expensive, stylish and quality toy. And here comes the term – Unstructured Play or Free Play.
Unstructured play is often child-led, made-up on the spot, and changeable as the day goes on.
It has an old-school approach where you just let the child be a child when it comes to play.
It's letting them use their imagination to create activities without any adult guidance or influence.
It comes without any predetermined rules with no requisite of organized teams, uniforms, coaches or trainers.
A child can have free play alone or with their friends and is not limited to a particular space or location.
And most importantly, the learning outcome is different each time and for every kid.

B. Benefits of Free Play / Unstructured Play:
Unstructured Play or Free Play has multiple benefits to a child irrespective of him/her playing alone or in a group:
It provides children with ample opportunities to think outside-the-box by harnessing their imagination and inquisitive nature, thereby helping them to master the elements of the world on their own terms.
It provides them with freedom to make mistakes and learn from it.
It aids in overall emotional development in children by building self-confidence, determination and self-esteem.
It helps children in analyzing the problems, if any and initiates trust instinct in self and others.
The problem-solving skills also fosters the leadership quality, social competence, and helps children with controlling their aggression.
Children learn about making decisions, thereby understanding different perspective and responsibilities.
Each time the free play toys or sets bring new possibilities, thereby continuing the process of learning-unlearning experience for a child. This continuous learning helps children with cognitive skills too.
Activities like playing in the garden or nature trails helps in building physical strength and co-ordination skills.
It also helps children build cardio-vascular fitness thereby ruling out childhood obesity, stress and other health issues.
Most importantly, free play way aids children in deriving happiness in each step and promotes optimism in the little ones.
And for us, it helps us to observe our child, understand them better and pave way for them in the direction they want to grow. With no or minimal adult supervision, children to express more to us and thereby having a very close child-parent relationship.
C. Toys & Activities that aid in Free Play:
The children's market in India is extremely competitive and we can see a plethora of brands catering to this market alone. While we parents are spoiled with choices, there are some toys that are a must in raising our little ones from the infant stage.

Toys like rattles, teethers, roly-poly, shape sorters, playmats, pull & push along toys, stacking toys and soft toys are some of the essential toys that parents across the globe purchase for their infants.

And as the child grows up, he/she is exposed to various toys like blocks, puzzles, battery-operated toys and cars, musical toys, etc. among others.

So, let me share some of the free-play toys & activities that I have purchased for Ayaansh and have found it to be a superb aid in his overall development:
TOYS:

Blocks / Lego Blocks
Rainbow Stackers or Wooden Toys
Magna Tiles
Dominoes / Jenga
Kitchen Play Sets & Tea- Party Sets
Figurines – Animals, Birds, other Living beings, Superheroes, etc.
Role Play Sets
Cars and Vehicles
Doll Houses

ACTIVITY SETS:

Kinetic Sand
Water beads
Play Doughs
Paints
Craft Items

ACTIVITY BOXES:

Flintobox
Firstcry Intellikit
XploraBox
Podsquad
Others

AUGUMENTED REALITY SETS:

PlayShifu Orboot Earth
PlayShifu Orboot Dinos
PlayShifu Jobs
Classmontior
Smartivity Puzzles
D. Free Play at home using Household Items:
This year the pandemic has been very cruel to us, forcing us to be indoors for more than 6 months now and we still don't know how much more. Our children are hit the worst, as their favorite outdoor play is totally curbed.

At my place, Ayaansh has almost forgotten the play areas like Happy Planet, Jumble Tumble, Timezone, Smaaash, The Riot Room, Bachcha Party, etc. Experiential play areas like Snow Kingdom, Kidzania and Bounce that gave them so much joy is a distant episode now.

So, let us see how to engage our children in free play using household items.
Kitchen Utensils & Tableware: Like the quote – "the way to a man's heart is through his stomach", our children are the most interested in kitchen items including spoons, plates, glasses, bowls and trays. Their inquisitive nature and the need to be included when the mother is in the kitchen is something that we can notice from the early age.

Playing with these common items of the household makes them comfortable and included in our lives. So, let the spoons and plates clatter and your child's day fill with joy and laughter.

Rotis, vegetables and masalas: As a child, I used to love flattening the rotis and be proud of my continental shapes (now, I get perfect round ones). Ayaansh also often expresses his interest to help me with flattening of rotis, or puris. For him, this act is nothing but practicing being mumma's helper when mumma turns old (please don't laugh or imagine me old). Washing vegetables and fruits, helping me lay them on a towel is favorite chore as he believes he is a superhero who fights off germs (a child's mind – you see)!Masalas also draw a lot of attention, especially when it goes into the tadka pan – my little chef wants to know the names and individually taste its flavors.

With this, he gains a lot of sight-smell-touch-taste abilities and I can often find him teaching his toys about it when he acts as a chef/teacher.

Gardening: In all my blogs, you might find a snippet on gardening and the impact it has when you include your child. Gardening calms the nerves, creates a compassionate heart and also makes your child sensitive towards nature. Ayaansh loves watering the plants with me or my hubby. We often engage in tilling the soil and sowing the seeds.
I usually give him a pot to till by his own and sow seeds with absolutely no instructions. It actually feels overwhelming to see the little hands putting in all the efforts. He gently nourishes it each day by watering and talking to the plant. We also indulge in plant based talks which makes him more attached towards the nature.

Newspapers & Magazines: We often don't realise how important newspapers are for our little ones. Give them a bunch of it and ask them to use it however they want. I can see Ayaansh, scribbling on them, painting on it , tearing up few pages and sticking it on his craft book. He also observes the pictures and relates the common faces he sees in it. Again, the inquisitive brain takes over and he wants to know about the person or the situation he sees in the image. This way the little brains are filled with information on the worldly matters.

Mumma ka make-up: People who know me closely know that I am not a make-up kind of person. I usually am in my home avatar with a loose bun and maybe sometimes with kajal in my eyes. Thanks to Instagram, I have a very few brands of cosmetics that my son loves to see me apply. Mumma ka make-up is very interesting and hence he feels he should dress up his Wonder Woman and Black Widow. Sometimes, it's just the brush and some shimmer but his heart is content that he has turned them like his beautiful mumma (and how I wish I was Gal Gaddot or Scarlett Johansson).

Papa ka T-shirt, watch and ityadi: Please don't laugh at the title because, my son adores his father. The moment he gets a chance to put his papa's t-shirt, he is on cloud nine and mimics like my husband. Papa ka watch, goggles and purse are nothing but heavenly pleasures for him. He often feels that wearing all those makes him powerful like Papa and more close to Mumma!

Role-playing: Kids love role-playing games and Ayaansh is definitely not an exception. He can role play with his toy figurines, imaginary figures or on a video call with his grandparents and chachus.

Board Games: Board Games with multiple ways of play like bead-count set, pictionary, fletter, uno, Zephyr's Memory Skills, Creatives's Think & Match, The Story Merchant's Enchanted Forestland & Spin-A_Story, Chalk & Chuckles Why Connect are some of our favorites. We also give him free hand in playing chess, ludo and snakes and ladders where he has all different coins taking you through the game.

Obstacle Course at home: Create obstacle course activities by using pillows, blocks, jengas and toys. Ayaansh loves challenges creates new routes to skate in the available at home. He also loves to jump around by stacking up pillows or toys and crossing over them.

Unplanned movie-time and follow-up games: My husband being busy with his office, often surprises us with his sudden free time and mostly we end up catching up some movies or shows. This often follows-up with activities related to movies with the little one like role-playing the favorite characters or discussing how the movie can be better etc. Ayaansh's opinions usually makes us ponder on how much the little brains can actually process the information.

Read, Paint, Sing and Dance: Ayaansh absolutely loves to read and flip pages for hours. He loves forming his own stories and narrating to us. The only requisite is patiently listening to him while he weaves his story, forming meanings and building up language skills. Painting is yet another activity that Ayaansh loves to do. Off lately, he has started using his artistic skills on the blackboard to showcase his love for the pictures.
Kids love music and mine is no exception again. Ayaansh is a true Mumbaikar who can get his feet tapping to the faintest of the music. Dancing to the beats ever since he learned to balance himself is still a wonder to us as his parents.
Nevertheless, I sincerely pray and hope that the pandemic ends soon and our children get to visit the gardens, beaches and open spaces. The joy open spaces give to children are incomparable and unmatachable. Till then, let us all enjoy the rest of the indoor times with our children without whom the pandemic would have been more tough to deal with.

Keep Reading and Stay Happy!

Love,
Amritha

This blog is a part of #LBWP #LetsBlogWithPri S2 hosted by Prisha. You can also read what the book review written by my friend Sindhu and also read the post by Hansa who talks about pregnancy in pandemic by clicking here.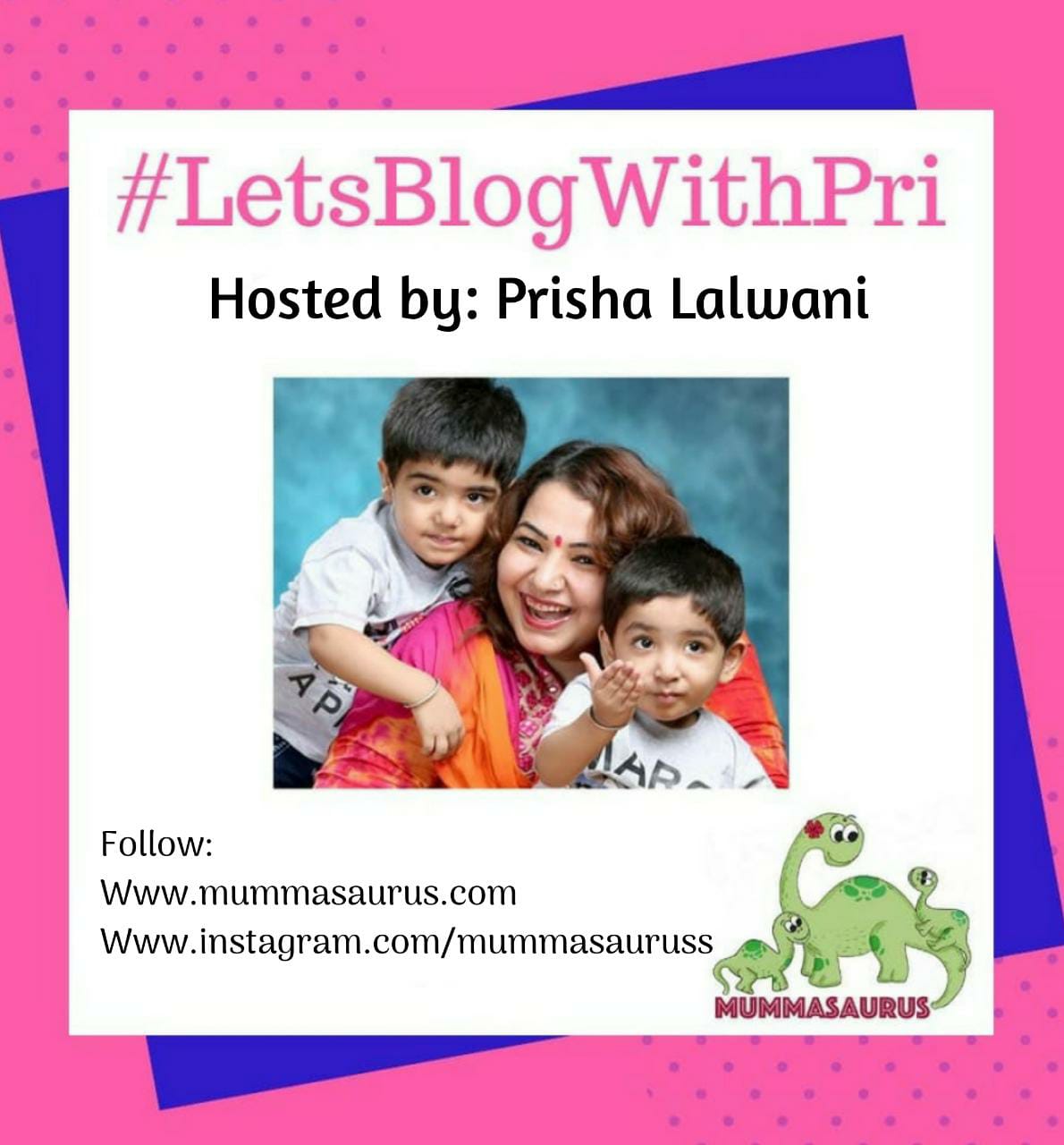 Hosted By : Prisha Lalwani Mummasaurus.com
IG: @mummasauruss
FB: /mummasaurus1