Ever since human beings evolved and started communicating with one another to express, to convey verbally and get things done, we have always been in the loop of grasping and mixing things up, often leading to miscommunication and misunderstanding. As important it is to talk, it is equally important to be a good listener for an effective communication. At the present era, emojis or smileys (as some may refer to) play an important part in the written communication. It not only adds a personal tone to the message, but also adds a lighter note to the conversation. But do we know when to stop and which emojis to use for a particular context? Most of us don't and we have our own interpretations of them, indifferent to the meaning it actually conveys.
So here's my list of social media etiquette for bloggers/influencers when it comes to interacting with the brands/agencies, followers or fellow bloggers, and most importantly while creating your content:
A. Content Creation:
As a blogger/influencer, the main job is to create credible content that people can read, understand and easily follow. So how does one create it?
I believe that a good content is only created when one understands his/her own niche and works constantly by reading about the latest developments in that area to convey it to the larger audience.
It can also be created when we promote the brand that we believe in by writing an honest feedback and not otherwise.
While creating content on social media platforms like Instagram or Twitter, always remember to have a crisp caption without any grammatical / typographical errors.
Do not use abusive words/slangs in your captions. While one feels that it is acceptable to include in the spoken communication, trust me, from a reader's perspective it looks immature and insensitive.
It is also imperative to add a personal touch to your content by citing real life experiences you have had, as the learning is what made you write the content in the first place.
Post your content wisely and in regular intervals. While it is okay in Twitter to tweet/retweet frequently in a day, it is not okay to post more than thrice in Instagram. Remember, your audience do not want to see only your posts in their feed. For blogs, it is advisable to post atleast 1-2 times a week.
Tags, Hashtags and Keywords: Tag a brand you have collaborated with, or used in your pictures to gain some visibility. One can also tag the communities or groups who might benefit from reading your post. Using relevant hashtags pertaining to the post also garners new audience to your grid. For blogs, use relevant keywords recommended by Google to garner maximum eyeballs to your blog.
B. Followers / Other Bloggers:
Social media is swarmed with bloggers sharing their life and views with the audience with an aim to monetize their work. Off lately in Instagram, it is the numbers game that decides whether you get to be part of a campaign or not. While competition creeps from every corner, here are some basic do's and don'ts that will help you grow in the long run.
Never compare your work with your fellow bloggers and try to plagiarize their work. Remember, everyone works hard or smart to achieve their own position.
The basic thumb rule to follow someone is when you like their content and believe their advice seriously. But in recent times the saying, 'I scratch your back and you scratch mine', is what is being followed in the gram. While it is okay to repay the favors, remember that if you are here to stay then – 'Your content is going to make or break you'.
Having said about repaying the favors, one must never forget to appreciate and thank the efforts of those who comment on our posts genuinely. Also, do not forget to address the questions asked by your followers with earnest answers, may it be on your post or a DM.
We love attention and want 1000 likes on our picture in an instant. But remember, it is not possible to get them in an instant. It will take time and eventually one can get there. So, in an hurry to get the likes, do not send your posts /tweets to all your fellow bloggers. IT WILL DEFINITELY ANNOY THEM AND SOON YOU MAY SEE THEM OFF YOUR LIST. And, in case of any brand collaborations for which you seek more engagements, send a personalized message with a courteous and respectful tone, asking for a favor and with a promise to return it back when they need. Do not forget to thank them again.
It is also not okay to message and ask them about the contacts of all the brand representatives or the upcoming collaborations. Instead, my only advice would be work for yourself.
The most important part is respect your co-bloggers and give them due credit when you follow a certain pattern of their work or when they help you with your content or when you collaborate with them. Remember, human relations thrive solely on being honest and being more inclusive.

Social Media Etiquette for Bloggers Pic Courtesy: Canva Edited by Amritha Srinath
C. Brands/Agencies:
As professionals, we bloggers have to keep constant communication with the brand personnel or agency representative maintaining a pleasant and long-term relationship. Here are some of the important professional etiquette for bloggers/influencers:
Working Hours: Setting up working hours especially when interacting with brand representatives is extremely important to have a healthy work-life balance.
Be polite and humble while you talk with the brand representatives. One can be a big name in the industry and yet be humble enough to automatically get respected. Remember, if blogging is your bread and butter then they are the providers for it.
Having said this, you need not go out of the way, sugarcoat your words and agree with everything they say. Let your better nature and work talk for you.
And remember the emojis? It is advisable not to use them while writing to the brand. Keep it formal and straightforward.
In case of only written communication with the brand you approach, start your mail/message with a greeting, a brief introduction of you and your work, share links of your best work, provide your contact information and let them know you would be interested to have a collaborate with them. Do this and patiently wait for them to respond. WE MAY BE ONLINE AT THAT POINT OF TIME BUT IT IS NOT NECESSARY THAT THEY ARE ONLINE TOO. SO WAIT FOR THE REVERT.
While collaborating with a brand or with the agency for a brand, be honest about your constraints too. It can be technology related, personal or any other circumstance related. Convey the quality of work you can offer and quote your price. Let the brand come back to you. DO NOT MAKE FALSE PROMISES.
Another important thing is every social media offers Insights for a post. After the campaign is over, it is important to send it to them. This not only gives a clear picture of your effort taken to promote the brand but also offers an assurance that they have made the right decision by collaborating with you.
Have a clear Invoice format depicting the collaboration & Bank details for the payment. If the payment gets delayed, follow up once or twice patiently before escalating it to another level.
Lastly, keep in touch with the brand by sending seasonal greetings with a professional creative or when you promote their products even after the campaign is over. Tag them to let them know, you genuinely love their products.
I have always believed that an honest-straightforward talk or a simple yet powerful message projects the thoughts one has in his/her mind rather than words that are difficult to write or pronounce. Remember, babies learn the art of language from the womb and they have wonderful ways to communicate with the world once they step out of the uterus. So for an effective communication, we need not go to any Oxford University or have a Tharoorian language. I hope you enjoyed reading this post and reap benefits from what this social media world has to offer.
I really would love to read your feedback on my post or criticisms, if any, and would definitely love if you are re-sharing my work in your social circles.
You can also follow me on Instagram at https://www.instagram.com/themummastartup and get in touch with me over a DM or shoot me an email at amstar1125@gmail.com & I shall definitely revert to you.
For my other social media links click here: Facebook Twitter Instagram
This post is a part of #LBWP – Let's Blog With Pri Season 2.
Also do not forget to check the wonderful posts by my fellow bloggers Archana and Nupur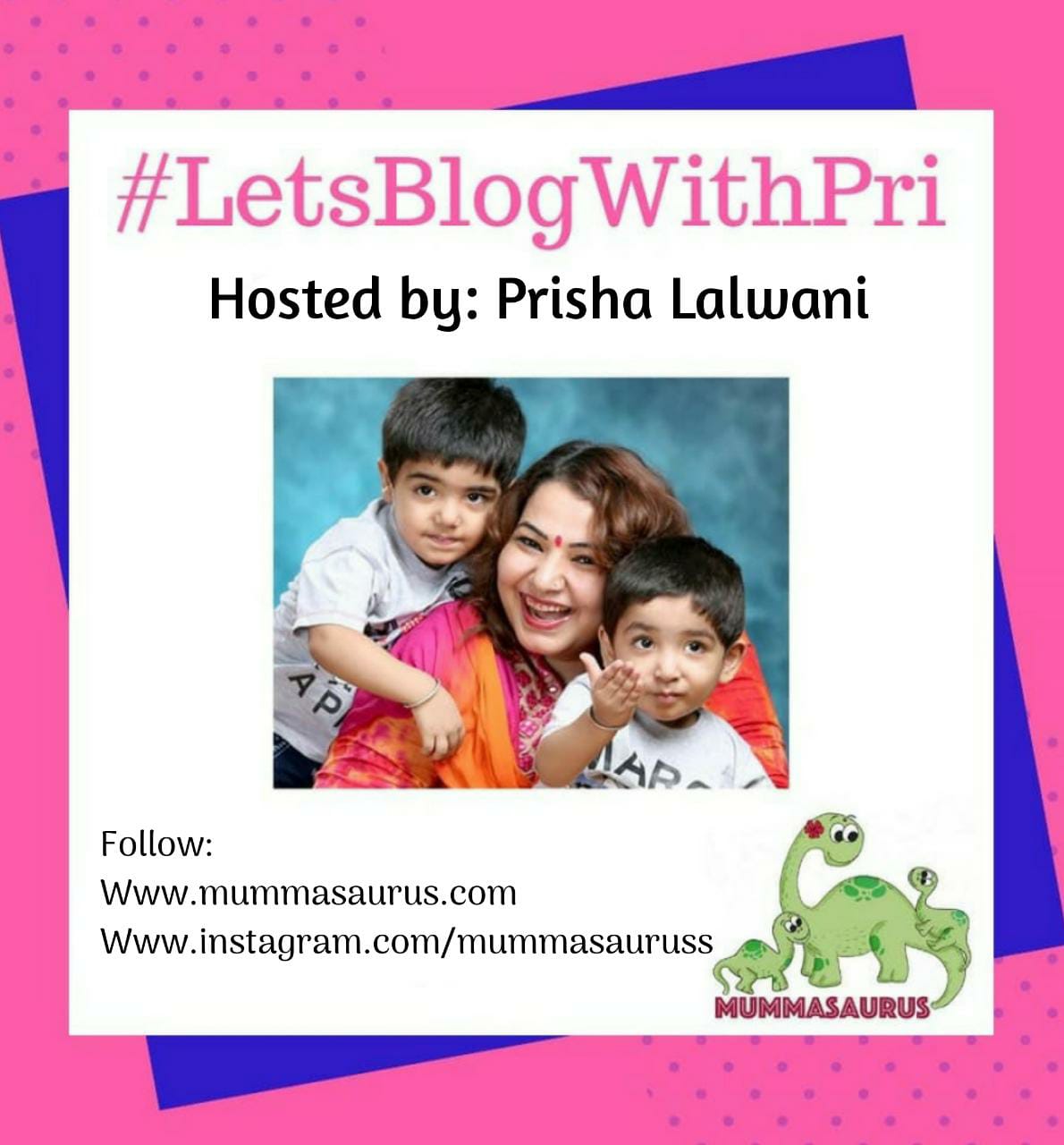 Hosted By :
Prisha Lalwani
Mummasaurus.com
IG: @mummasauruss
FB: /mummasaurus1